Product Description
| | |
| --- | --- |
| Product name | stainless steel wire |
| Grade | 201 202 301 302 303 304 304L 305 316 316L 302HQ 304HC 410 416 420 430 2520 SAE1008 1.4301, 1.4306, 1.4845, 1.4401, 1.4371, 1.4597,1.4541, etc |
| Standard | ASTM, EN,DIN,JIS,AISI,GB |
| Surface | bright, cloudy,plain,black |
| Diameter | 0.05-20mm |
| Type | spring,welded,tig,mig etc soft and hard |
| Length | as your requirement |
| Usage | With bright surface, slight magnetism and no cracks on forming, is widely used in bicycle fittings, kitchen and sanitation tools, goods shelf, pet cages, gill racks, decorative handles and baskets, food and medical machinery accesses, etc. |
| Condition of delivery | Austenite in solution,ferrite in anneal or in accordance with client's detailed requirement |
| MOQ | 1 Metric ton |
| Price terms | CIF or FOB Shanghai |
| Payment terms | L/C or T/T |
| supply ability | 25 Metric tons per day |
| Delivery Detail | 7-30 days,according to the quantity. |
| Packaging Detail | in coil or in spool then in carton or as your request |
Chemical Composition
Type AISI
C Max%
Mn Max %
P Max%
S Max%
Si Max%
Cr%
Ni%
Mo%
201
0.15
5.50-7.50
0.06
0.03
1
16.000-18.00
0.5
-
202
0.15
7.50-10.00
0.06
0.03
1
17.00-19.00
3.-0-5.00
-
204CU
0.08
6.5-8.5
0.06
0.03
2
16.0-17.0
1.5-3.0
-
302
0.15
2
0.045
0.03
1
17.00-19.00
8.00-10.00
-
302HQ/
0.03
2
0.045
0.02
1
17.00-19.00
9.00-10.00
-
304CU
304HC
0.04
0.80-1.70
0.04
0.015
0.3-0.6
18-19
8.5-9.5
-
303
0.07
2
0.045
0.25 Min
1
17-19
8.0-10.0
0.6
304
0.08
2
0.045
0.03
1
18.00-20.00
8.0-10.50
-
304L
0.03
2
0.045
0.03
1
18.00-20.00
8.00-12.00
-
310 S
0.055
1.5
0.04
0.005
0.7
25.0-28.0
19-22
-
314
0.25
2
0.045
0.03
1.50-3.00
23.00-26.00
19.00-22.00
-
316
0.06
2
0.045
0.03
1
16.00-18.00
10.00-14.00
2.00-3.00
316L
0.03
2
0.045
0.03
1
16.00-18.00
10.00-14.00
2.00-3.00
316Ti
0.08
2
0.045
0.03
0.75
16.00-18.00
10.00-14.00
2.00-3.00
347
0.08
2
0.045
0.03
1
17.00-19.00
9.00-13.00
-
321
0.06
2
0.045
0.01
.40-.60
17-19.00
9.4-9.6
-
ER308
0.08
2
0.045
0.03
1
17-19
9.5-13.0
-
ER308L
0.025
1.50/2.00
0.025
0.02
0.5
19.0/21.0
9.5/11.0
-
ER309
0.08
1.50/2.50
0.02
0.015
0.5
23.0/25.0
20.0/14.0
-
ER309L
0.025
1.50/2.50
0.02
0.015
0.5
23.0/25.0
12.0/14.0
-
ER316L
0.02
1.50/2.00
0.02
0.02
0.5
18.0/20.0
12.00-14.00
2.00-3.00
430L
0.03
1
0.04
0.03
1
16.00-18.00
-
434
0.08
1
0.04
0.03
1
16.00-18.00
-
0.90-1.40
Packaging & Shipping
Full wrap by plastic packing-cloth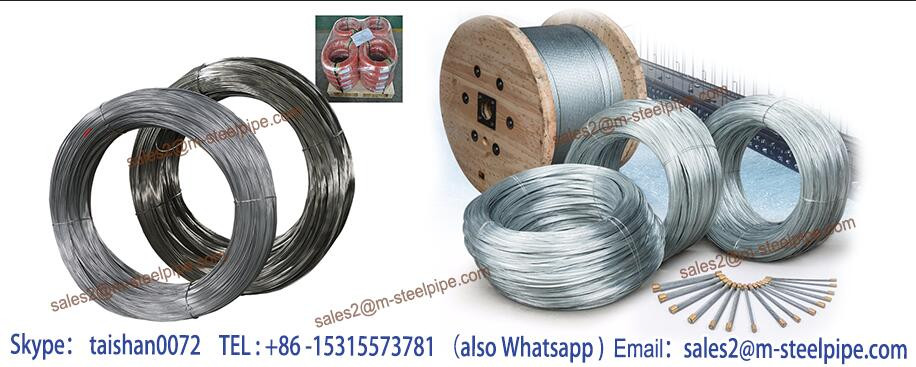 Our Services
1)High quality,competitive price and perfect service
2)Different standard of your choice
3)Products have passed international standard
4)Our company specialized in producing various kind of wire mesh
Company Information



FAQ
1)Q:Are you Trading company or Manufacturer?
A: We are an Industry&Trade Company .Our factory name is Anping Jiufu Metal Wire Mesh Co., LTD
2) Q:What type of production equipment do you have?
A: A sincere commitment to contract and service has helped us to expand quickly in the past years to become a big factory with 26 sets of stainless steel wire drawing machines, 15 sets of iron wire drawing machines, 30 sets wire mesh weaving machines and four production lines of wire galvanizing.

3) Q:Why should I choose you? What's your advantages? Industries you are serving?
A: We are a professional manufacturer and have 15 years production and management experience in the field of wire mesh .Our factory is now also ISO 9001 certified.
We can provide our customers with a good solution in the area of production design, production process,packaging and after-sale service.Customer satisfaction is our sole pursuit.
Any question please feel free to contact me

Steel Wire can be use for redrawing,they are widely used for manufacturing steel wire rope,cable,bailing pasture fence, armoring cable, fence,strand etc. Our Exporting to Poland 20MT SUS 304 Stainless Steel Wire have excellent toughness and flexibility , thick galvanized layer, strong corrosion resistance and other properties .
Exporting to Poland 20MT SUS 304 Stainless Steel Wire are widely used for manufacturing overhead aluminum conductor and overhead steel conductor.Exporting to Poland 20MT SUS 304 Stainless Steel Wire are smooth and round.The surface have not any flows,scratches,twists seams,splits.
JHJHVJGHVB
Steel Wire is widely used in the industrial fields and the daily lives. Exporting to Poland 20MT SUS 304 Stainless Steel Wire can be as the basic material of many meshes, like weld wire mesh, crimped wire mesh, diamond mesh, hexagonal wire netting, hardwire cloth, slope protect wire mesh, gabion box, filter screen, mine screen mesh, chain link fence, fence netting etc.
Steel Wire also used in other fields like galvanized wire mesh fenceing for the protection of agricultural and commercial properties; used in various automotive components; communication equivaments; packaging products; manufacture of galvanized barbed wire; galvanized wire rope of low and high strength; used in medical components etc.