Product Description
316L Stainless Steel Wires (3mm, 3.5mm, 4mm)


1. Material: AISI 316L

,

304

,

304L
2. Dia: 0.02mm-5.5mm
3.Grade: 201, 202, 301, 303, 304, 304L, 305, 316, 316L, 321, 410, 416, 420, 430...1.4301, 1.4306, 1.4845, 1.4401, 1.4371, 1.4597, 1.4541, etc
4. Standard: ASTM, EN, DIN, JIS
5. Surface: Bright, cloudy, plain, black
6. Type: Spring, welded, TIG, MIG etc soft and hard /soft
7. Packing: In coil or in spool then in carton or as your request
8. Tensile strength: 450-900 Mpa
9. Delivery time: 10 working days after received deposit.
10. Payment term: 30% by T/T as deposit., balance will be paid by T/T

Wire classification:
1. EPQ wire (electro polishing quality)
2. Cold heading wire (cold heading quality for making screws, fasteners, balls, etc)
3. Nail wire
4. Weaving wire, Braiding wire
5. Spring wire
6. Annealing wire, redrawing wire, tie wire
7. Welding wire
8. Free cutting, profiling wire
9. Cold drawn bar
10. Other stainless steel wire applied in different conditions


Technical Information




Material: 304, 304L, 316, 316L




Size: diameter 5mm to 0.025m




Stainless steel wire uses in redrawing, mesh weaving, soft pipe, isolation layer in kitchen, steel rope, filter material, making of spring, etc.

Wire Diameter (mm)
Allowed Difference (mm)
Max. Diameter Difference (mm)
0.020-0.049
+0.002
-0.001
0.001
0.050-0.074
±0.002
0.002
0.075-0.089
±0.002
0.002
0.090-0.109
+0.003
-0.002
0.002
0.110-0.169
±0.003
0.003
0.170-0.184
±0.004
0.004
0.185-0.199
±0.004
0.004
0.200-0.299
±0.005
0.005
0.300-0.310
±0.006
0.006
0.320-0.499
±0.006
0.006
t

he pictures of stainless steel wire

the package of stainless steel wire rod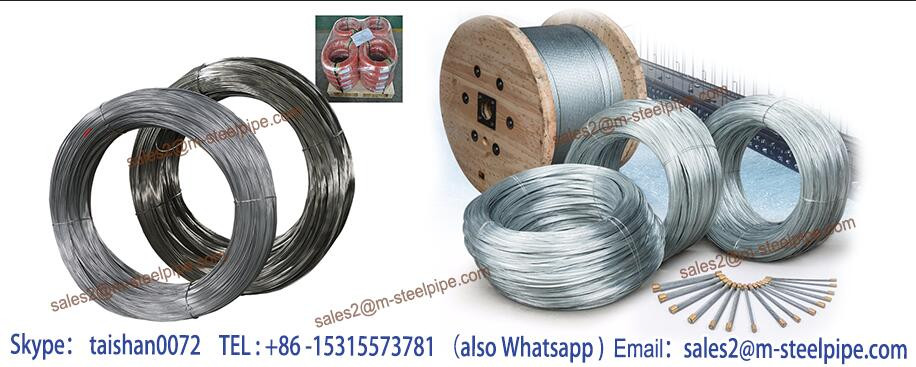 | | | |
| --- | --- | --- |
| Stainless Section Steel | Stainless Steel Bar | Stainless Steel Coil |
| Stainless Steel Pipe | Stainless Steel Sheet | All products |

company information

Advantages
1: 316L Stainless Steel Wires (3mm, 3.5mm, 4mm) on stainless steel industry
2: Products are all made of steel plate(Tisco,Lisco,Baosteel Posco)
3: No quality complaints
4: Perfect one-stop purchase
5: have more than 2000 tons stainless steel in stock
6: Can order as customer requirement
7: Serves many country customers
Certifications

Domestic

cutlery, sinks, saucepans, washing machine drums, microwave oven liners, razor blades

Transport

exhaust systems, car trim/grilles, road tankers, ship containers, ships chemical tankers, refuse vehicles

Oil and Gas

platform accommodation, cable trays, subsea pipelines

Medical

Surgical instruments, surgical implants, MRI scanners

Food and Drink

Catering equipment, brewing, distilling, food processing

Water

Water and sewage treatment, water tubing, hot water tanks

Chemical/Pharmaceutical

pressure vessels, process piping

Architectural/Civil Engineering

cladding, handrails, door and window fittings, street furniture, structural sections

reinforcement bar,

lighting columns, lintels, masonry supports
FAQ

Mandy
M.P /316L Stainless Steel Wires (3mm, 3.5mm, 4mm)/316L Stainless Steel Wires (3mm, 3.5mm, 4mm)+86 17315529930
Fax: +86 -0510-88888126
316L Stainless Steel Wires (3mm, 3.5mm, 4mm):mandy_4051
Email: mandy at cunruimetal.com
Web: www.cunruimetal.com


Any further questions,please feel free to contact us! Waiting for your reply for further discussion.
click here you can come back to the homepage!!!



Steel Wire can be use for redrawing,they are widely used for manufacturing steel wire rope,cable,bailing pasture fence, armoring cable, fence,strand etc. Our 316L Stainless Steel Wires (3mm, 3.5mm, 4mm) have excellent toughness and flexibility , thick galvanized layer, strong corrosion resistance and other properties .
316L Stainless Steel Wires (3mm, 3.5mm, 4mm) are widely used for manufacturing overhead aluminum conductor and overhead steel conductor.316L Stainless Steel Wires (3mm, 3.5mm, 4mm) are smooth and round.The surface have not any flows,scratches,twists seams,splits.
JHJHVJGHVB
Steel Wire is widely used in the industrial fields and the daily lives. 316L Stainless Steel Wires (3mm, 3.5mm, 4mm) can be as the basic material of many meshes, like weld wire mesh, crimped wire mesh, diamond mesh, hexagonal wire netting, hardwire cloth, slope protect wire mesh, gabion box, filter screen, mine screen mesh, chain link fence, fence netting etc.
Steel Wire also used in other fields like galvanized wire mesh fenceing for the protection of agricultural and commercial properties; used in various automotive components; communication equivaments; packaging products; manufacture of galvanized barbed wire; galvanized wire rope of low and high strength; used in medical components etc.