JIS/AISI/ASTM standard galvanized high carbon steel wire
Product Description
1. Steel wire definition
A wire is a single, usually cylindrical, flexible strand or rod of metal. Wires are used to bear mechanical loads or electricity and telecommunications signals. Wire is commonly formed by drawing the metal through a hole in a die or draw plate. Wire gauges come in various standard sizes, as expressed in terms of a gauge number.
The term steel wire is usually intended as carbon steel wire, but stainless steel and other alloys are used for many applications. Regarding carbon steel wire, the carbon content gives steel its strength and, higher the carbon content higher the tensile strength, but lower the malleability: this results in greater difficulties during the bending and forming process. Heat treatments help in these issues.
2. Steel wire specifications:
1) HARD DRAWN STEEL WIRE
ORDINARY LOW CARBON STEEL WIRE COMPLY WITH JIS G 3532 SWM-B
Size range : 1.50 mm to 7.00 mm
Packing : 100 kgs, 300 kgs, 500 kgs, 600 kgs, 800 kgs or 1000 kgs
Coil I/D : 400 mm, 450 mm or 500 mm
Coil O/D : 750 mm, 800 mm, 900 mm or 950 mm
Application : Nails, wire fabrics, furniture and general purposes




Tolerance on wire diameter
Mechanical properties
Remarks:
As for actual or nominal diameter not given in the above table, the value of the nearest
larger wire diameter in the table shall be applied.
Company Information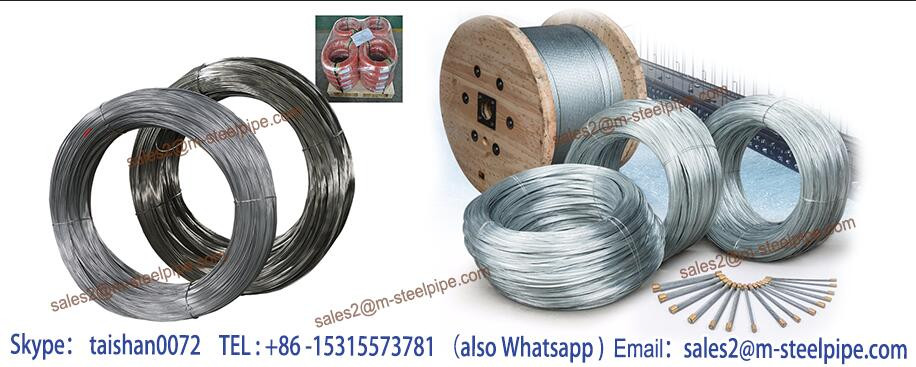 Our advantage
1. 30 years experience in manufacturing steel wire.
2. High quality of galvanization lines,drawing lines.Some lines are imported from Korea and Italy.
3. Every step will be checked and recorded by quality guys before moving to next step.
4. The payment,delivery,quality all can be guaranteed as per our contract. Trade Assurance by JIS/AISI/ASTM standard galvanized high carbon steel wire will be another guarantee for you.
5. We welcome third-party for inspection,like BV,CCS,SGS.
Packaging & Shipping

Contact us

Steel Wire can be use for redrawing,they are widely used for manufacturing steel wire rope,cable,bailing pasture fence, armoring cable, fence,strand etc. Our JIS/AISI/ASTM standard galvanized high carbon steel wire have excellent toughness and flexibility , thick galvanized layer, strong corrosion resistance and other properties .
JIS/AISI/ASTM standard galvanized high carbon steel wire are widely used for manufacturing overhead aluminum conductor and overhead steel conductor.JIS/AISI/ASTM standard galvanized high carbon steel wire are smooth and round.The surface have not any flows,scratches,twists seams,splits.
JHJHVJGHVB
Steel Wire is widely used in the industrial fields and the daily lives. JIS/AISI/ASTM standard galvanized high carbon steel wire can be as the basic material of many meshes, like weld wire mesh, crimped wire mesh, diamond mesh, hexagonal wire netting, hardwire cloth, slope protect wire mesh, gabion box, filter screen, mine screen mesh, chain link fence, fence netting etc.
Steel Wire also used in other fields like galvanized wire mesh fenceing for the protection of agricultural and commercial properties; used in various automotive components; communication equivaments; packaging products; manufacture of galvanized barbed wire; galvanized wire rope of low and high strength; used in medical components etc.