Brief Introduction:
1. Prepainted Steel Coil is coated with organic layer, which provides higher anti-corrosion property and a PPGI/PPGL Pre-painted Hot Dipped Galvalume Steel Coil lifespan than that of galvanized steel sheets.
2. The base metals for Prepainted Steel Coil consist of cold rolled, HDG electro-galvanized and hot-dip alu-zinc coated steel. The finish coats of Prepainted Steel Coil can be classified into groups as follows: polyester, silicon modified polyesters, polyvinylidene fluoride, high-durability polyester, etc.
3. The production process has evolved from one-coating-and-one-baking to double-coating-and-double-baking, and even three-coating-and-three-baking.
Specification of PPGI/PPGL Pre-painted Hot Dipped Galvalume Steel Coil:
1. Thickness: 0.25-1.2mm
2. Width: 914*1250mm
3. Inner Diameter: 508mm
4. Weight of Steel Coil: 4-18MT
5. Available Dipped AZ : 50-150g/m2
6. Surface Texture: Normal Coated
7. Type of coating structure: 2/1 Coat the top surface of the steel sheet twice,
coat the bottom surface once, and bake the sheet twice.
8. Front side paint thickness: 15-25μm (bottome paint + top paint)
9. Back side paint thickness: 5-7μm
| | |
| --- | --- |
| Item | PPGI/PPGL Pre-painted Hot Dipped Galvalume Steel Coil |
| Standard | JIS,EN,ASTM |
| Grade | (DX51D+Z) |
| Thickness | 0.25-1.2mm |
| Width | 914*1250mm |
| Length | As coils or sheets as your requirement |
| Color | According to your color sample or RAL color code |
| AZ coating | 50-150g/m2 |
| Painting thickness | 25 microns on top side/5-7 microns on back side |
| Coil ID | 508mm |
| Coil weight | Generally 4-10MT,according to your requirment |
| Production ability | 650000 MTs/year |
| PPGI/PPGL Pre-painted Hot Dipped Galvalume Steel Coil | Shirleylu2411 |
| Mobile | 86 13706510764 |
Mechanical Properties:
1. Mechanical properties of base metals
Grade

Tensile Test

Yield Strength

MPa

Tensile Strength

MPa

Elongation A80mm % ≥

DC51D+AZ

280-325

320-500

22

DC52D+AZ

240-300

270-420

26

DC53D+AZ

140-260

270-380

30
2. Common performance of front coating
1) Thickness: ≥20μm
(2). Pencil Hardness: 2H
(3). 60° specular glossiness of coating: >60
(4). 180°bend: ≤3T
(5). Impact: ≥9J
(6). Salt Fog Resistant: ≥500h
(7). Color difference:
More informations, pls feel free to contact me!
Application:
1. Construction:(Outside) workshop, agricultural warehouse, residential precast unit, corrugated roof, wall, rainwater drainage pipe, terrace, retailer booth, roller shutter door(Inside) door, doorcase, light steel roof structure, folding screen, ceiling, elevator, stairway, vent gutter
2. Electrical appliance: refrigerator, washer, switch cabinet, instrument cabinet, air conditioning, micro-wave oven, bread maker
3. Furniture: central heating slice, lampshade, chifforobe, desk, bed, locker, bookshelf
4. Carrying trade: exterior decoration of auto and train, clapboard, container, isolation lairage, isolation board
5. Others: writing panel, garbage can, billboard, timekeeper, typewriter, instrument panel, weight sensor, photographic equipment
ATTRIBUTE:
l guaranteed hardness
l nice surface finish
l Excellent zinc coating
l Assured corrosion protection
l Environment friendly
l Supreme performance
l good bendability
Packing:
Standard seaworthy export packing: 3 layers of packing, inside is kraft paper, water plastic film is in the middle and outside GI steel sheet to be covered by steel strips with lock, with inner coil sleeve. Other types of packing can be customized as per client's requirements.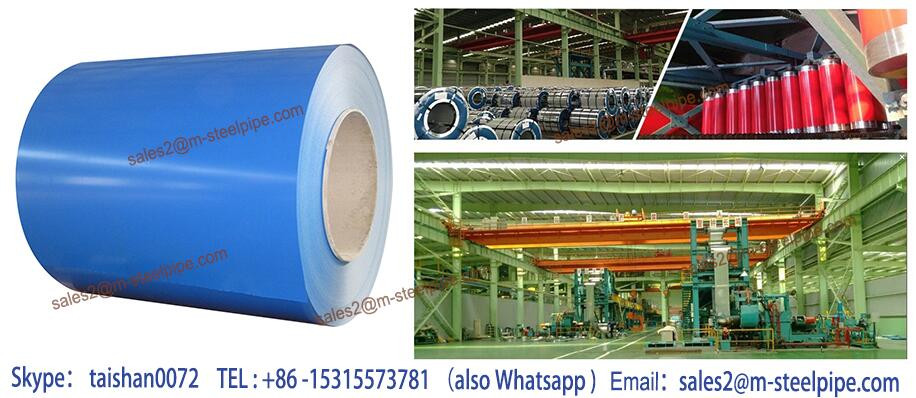 Testing center: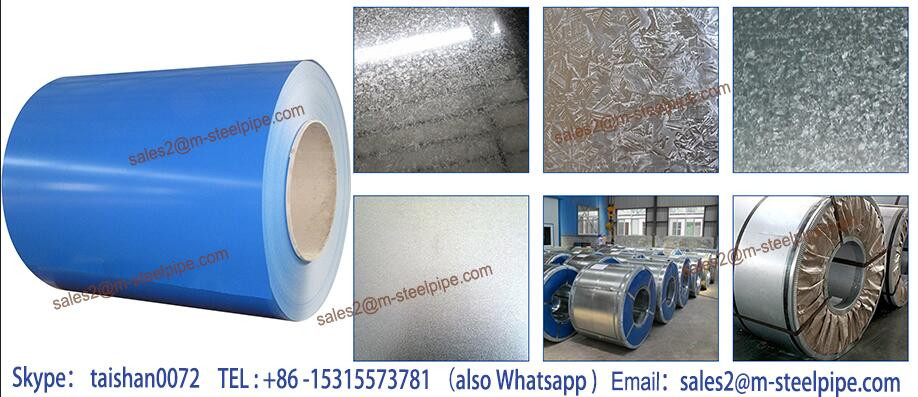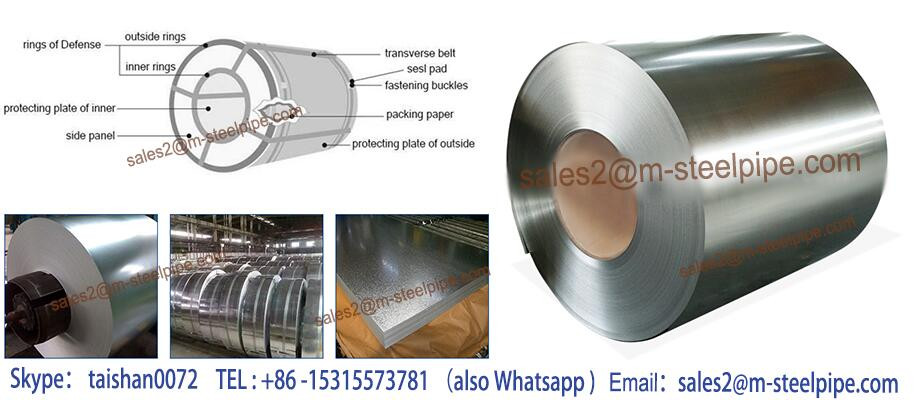 Factory Overlook:

Welcom to visit our factory!!
Units on a continuous cold-rolled strip steel or steel sheet,galvanized steel (electro galvanized,Pre-painted steel coil hot galvanized,Galvalume and cold-rolled plate) as the substrate, after surface preparation (degreasing and chemical treatment), PPGI/PPGL Pre-painted Hot Dipped Galvalume Steel Coil by a roll coating method, applying one or more layers liquid coating, after baking and cooling the resulting sheet is coated steel.Pre-painted steel coil Since the coating can have a variety of colors, it is customary to coated steel is called color coated steel sheet (PPGI).
JHGJHGJ
PPGI/PPGL Pre-painted Hot Dipped Galvalume Steel Coil is the material which uses galvanized steel as the basic substrate metal. PPGI is prepainted galvanized steel, also known as precoated steel, coil coated steel,Pre-painted steel coil color coated steel etc.PPGI/PPGL Pre-painted Hot Dipped Galvalume Steel Coil A galvanized steel sheet in coil form is cleaned, pretreated, applied with various layers of organic coatings which can be paints, vinyl dispersions, Pre-painted steel coil or laminates.PPGI/PPGL Pre-painted Hot Dipped Galvalume Steel Coil are applied in a continuous process known as Coil Coating.The steel thus produced in this process is a prepainted, prefinished ready to use material.